Accommodation
Which Residence is Right For You?
When planning your transition to university, choosing which accommodation to live in is one of the most important decisions you'll have to face. With 16 different accommodations to choose from here at Cardiff University, each catering to a variety of different student needs, where to live can feel like a nerve-wracking and impossible choice.
Luckily, the Residence Life team are here to help! We've made a quick and easy quiz covering all the basics of what you'd want from a university accommodation, from a lively atmosphere to an ensuite bathroom, which will (hopefully!) give you some much-needed guidance about which of our halls is suitable for your needs.
The way that this quiz works is simple – it will ask you a question and present you with a series of options. Next to each option is a letter or series of letters – once you've decided which option sounds most like you, you note down the letters written next to it. At the end of the quiz, the letter you've written down most frequently is your ideal accommodation!
Enjoy!

Q1: First, let's talk location – which facilities would your dream halls be close to?
Leisure facilities – a gym, a park, shops and fast food restaurants. (A)
The main campus buildings – I don't want to walk too far for my classes! (B)
The city centre and the student union – I want to be involved in lots of activities. (C)
Roath Park – I want to be close to nature and stunning views. (D, E)
Heath Park Campus – I want to be near the healthcare buildings. (F)

Q2: For dinner, would you prefer to cook for yourself or enjoy a meal prepared for you?
I want to make my own meals. (A, B, C, D, E, F)
I want somebody else to make my meals. (B, C)

Q3: Are you happy to share a bathroom in your accommodation?
I'd like a shared bathroom. (B, C, D, E)
I'd prefer my own bathroom. (A, B, C, D, F)

Q4: Would you prefer to live at a quieter site, or a livelier one with more activity?
I want noise, action and activity! (A, C)
I'd prefer to live at a quieter location. (B, D, E, F)

Q5: In terms of other students, would you prefer to have many or few flatmates?
I'd like a studio. (C, E)
I'd prefer less housemates – no more than 6 people! (B, E, F)
I'd love to share with lots of other students! (A, B, C, D)

Q6: Are you a Welsh-speaker who'd like to live with other Welsh-speakers?
Yes! (A, C)
No! (A, B, C, D, E, F)

Q7: Finally, would you like to live in a hall with on-site parking?
Of course, I need somewhere to leave my car! (A, B, D, E)
That won't be necessary for me. (A, B, C, F)

RESULTS

Mostly A's – Talybont
The Talybont residences would be perfect for you! Being the largest student residences offered by the university, this site will be lively and the perfect place to socialise and have fun! It also has the perks of it's own grounds, social centre and on-site gym – what more could you want?
For a Welsh-speaking flat – you'll love Talybont North! Flats for Welsh speakers and learners are available in this building.
For a parking space – you should apply for Talybont North also! There are 130 parking spaces on the site.
For a little more luxury – Talybont Gate is the choice for you. With a ¾ length bed in every room and a Freeview TV with license paid in each flat, it has an extra edge over the other Talybont locations.

Mostly B's – North Campus
Consisting of Aberconway Hall, Aberdare Hall, Colum Hall and Hodge Hall, there's something for everyone in North Campus. Not only is it close to the main university campus, it also boasts a speedy walk to nearby Maindy Road Lidl and the beautiful Bute Park, as well as being significantly closer to the Student Union than other locations such as Talybont.
For part-catered accommodation – Try Aberdare Hall! A traditional, female-only accommodation, Aberdare Hall also contains it's own gardens and common room, allowing for a great community feel amongst women of the university.
For an ensuite bathroom – Put Colum Hall as your first choice! Opposite the Business School and John Percival buildings, this would also be a great choice if you study business, economics or a social science!
For smaller flats – There are multiple options on this campus! If you're a postgraduate student, Hodge Hall offers smaller flats, the shortest walk to Lidl of the North Campus locations and on-site parking spaces! If you're an undergraduate, the larger Aberconway Hall would be your best choice.

Mostly C's – South Campus
The university's South Campus location consists of Senghennydd Court, Senghennydd Hall, and Gordon Hall! The best location for accessibility of the Student Union and City Centre, South Campus also boasts a livelier atmosphere than North Campus and a range of accommodations for all students.
For part-catered accommodation – Apply for Senghennydd Court or Hall – they both offer evening meals Monday-Friday in the nearby Trevithick building. While Senghennydd Court has shared bathrooms in larger flats, Senghennydd Hall offers ensuite options.
For an ensuite bathroom – South Campus offers both Senghennydd Hall and Gordon Hall. Both are also part-catered options, with the main difference between the two locations being size. Senghennydd Hall is larger, whilst Gordon Hall is a smaller location.
For a studio flat – Senghennydd Hall offers one studio flat perfect for a couple.
For a Welsh-speaking flat – look no further than Senghennydd Court – it offers multiple flats for Welsh-speakers and learners only.

Mostly D's – University Hall
University Hall is your perfect accommodation! Offering a slightly more tranquil site than our Cathays locations, University Hall is fully equipped to suit your needs. Rooms are available with both ensuite and shared bathrooms, catering to both preferences, and also has 65 parking spaces for its students to use.
In addition to the basics, University Hall also offers it's residents beautiful views across Cardiff and a large communal social space equipped with pool tables, playstations and a projector. It's the perfect space to meet new people, have fun with friends or even study in the quieter hours.
While University Hall is a longer distance from the facilities of main campus, it offers a moderately short walk to Heath Park Campus and is very close to the scenic Roath Park, making it the perfect location for lovers of nature, wildlife or simply a nice walk. There's also a free bus near the accommodation which can take you to Cathays, Park Place, Heath Park Campus or City Centre every hour from Monday to Friday. Overall, University Hall boasts great facilities, beautiful views and the perfect campus to make new friends!

Mostly E's – Cartwright Court and Roy Jenkins Hall
Your ideal accommodation is either Cartwright Court or Roy Jenkins Hall! Two of the smaller and quieter residences, the two offer shared bathroom facilities, parking spaces and a site further away from main campus than other residences. Both of these accommodations also offer studio flats, so they'd be an ideal choice for couples not looking to live with other students.
For Roath Park – Cartwright Court would be ideal for you. Boasting a closer proximity to Roath Park than most other residences, it's the perfect accommodation if you'd like to spend some time exercising, reading a book or socialising with friends amongst the beautiful wildlife which Roath Park has to offer.
For closer proximity to Cathays – choose Roy Jenkins Hall. While it's far enough from main campus that you're not completely involved in the hustle and bustle of student life, Roy Jenkins Hall is less than a mile from the Cathays campus site, meaning that the main student buildings are still easily accessible.

Mostly F's – Clodien House
Clodien House is right for you! Ideal for healthcare students, Clodien House is the closest accommodation to Heath Park Campus, eliminating the lengthy walk or commute via public transport that would be required from the other student halls. It also boasts bedrooms with ¾ beds and ensuite bathrooms, giving you a slightly more comfortable student experience than other accommodations would offer.

Do none of these sound right for you?
Why not try living in a student house?
With locations available on Colum Road, Colum Place, Cathays and Roath, there's a student house to suit everybody! These are great for students who want a little more independence and a larger, more homely living space than would be offered in halls. However, you should also bear in mind that you'll have to check which accommodation houses your nearest laundry room, as student houses do not have their own.

Check out this handy list of distances from each residences to each academic building to see if the one you got suits you!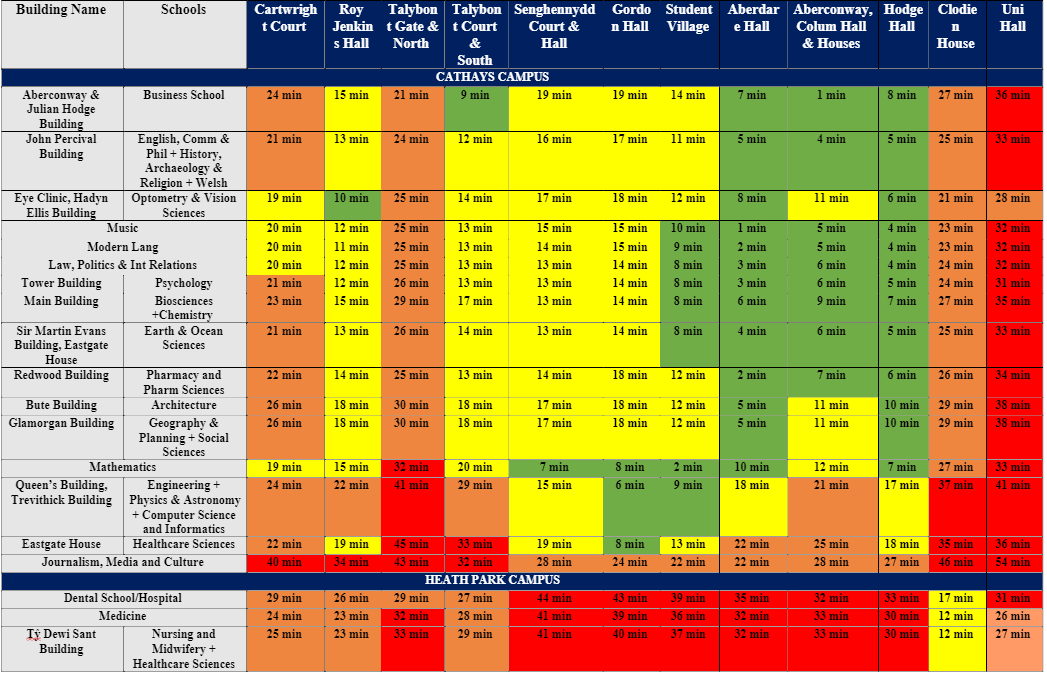 Hopefully you now have a better idea of which accommodation you should choose for the next academic year! Don't forget to apply early for the best chance of securing a place in your dream halls.
Topics