Accommodation
University Hall Student Guide
University Hall is located in one of the leafy suburbs of Cardiff and is approximately three miles from Cardiff city centre.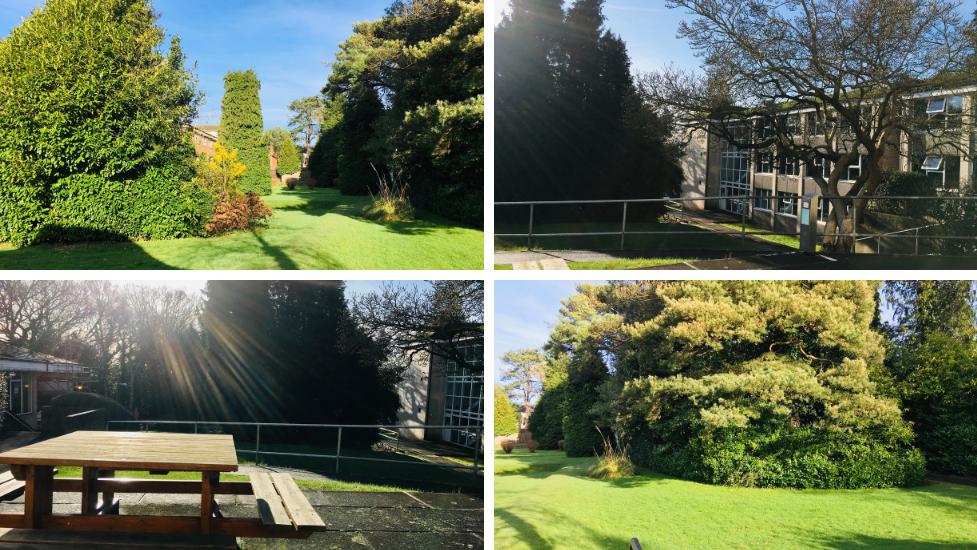 University Hall has a reputation for being in a safe and secure environment.
Students living in University Hall are mainly undergraduates, especially those studying healthcare-related degrees. University Hall is less than 2 miles from the Cathays Park campus and is a short walk or cycle to the Heath Park campus as illustrated below.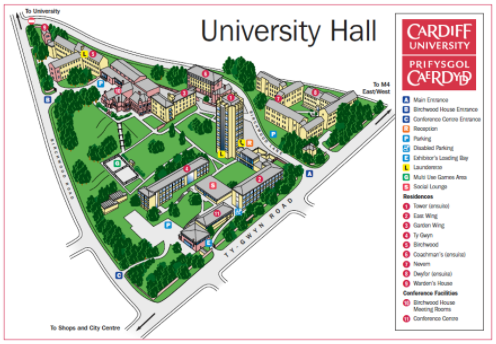 Summary of Residence Facilities in University Hall
University Halls has 251 ensuite bedrooms and 418 standard bedrooms with shared bathrooms. All rooms have shared communal areas that include the kitchen/dining area.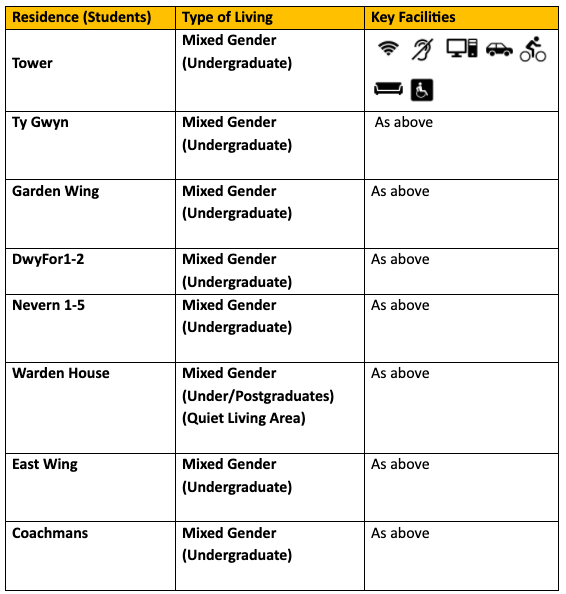 Recreational Facilities
Beyond the residences, University Hall boasts spaces for recreational activities ranging from well-maintained gardens, a sports field and a conference centre.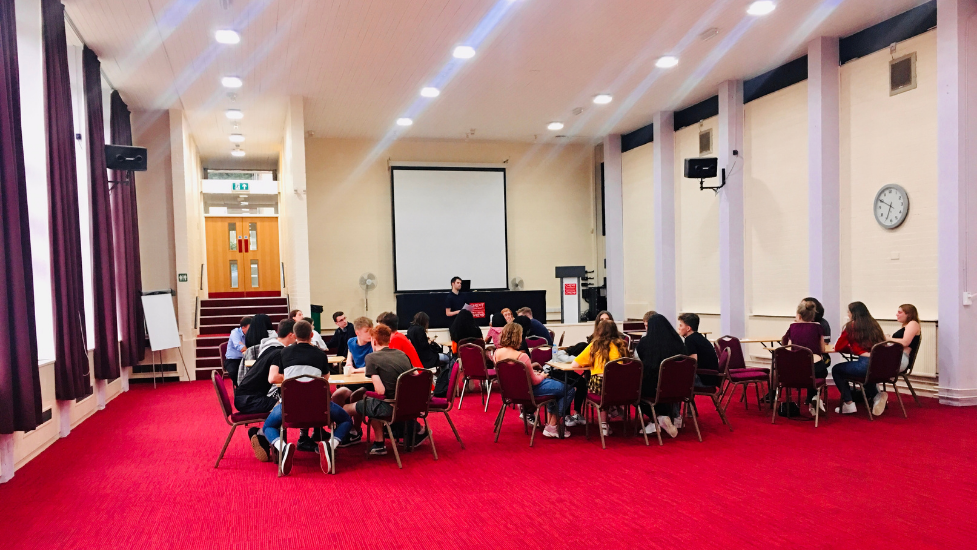 There is also a social lounge that is well equipped with a pool table, study areas, and computer facilities in which students can engage in various games.
The Lounge is open for use between 9am-midnight from Monday to Sunday.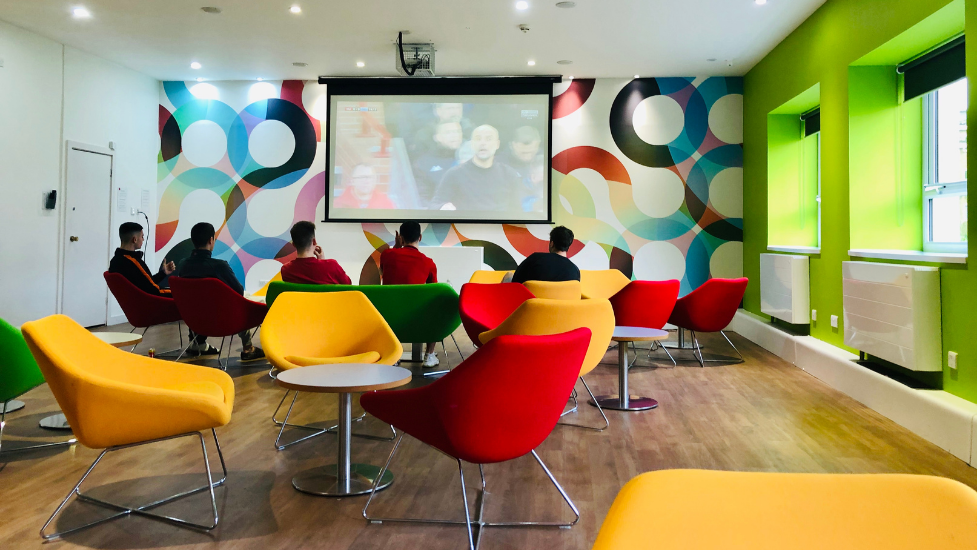 What to expect when you arrive at University Hall...
Arriving at University for the first-time as an undergraduate student can be a daunting task. We at University Hall have made every effort to ensure that your arrival is as smooth as possible and that you are able to easily settle into your room.
Amongst the things to expect are:
Help from Residence Life Team: On the day of arrival, you will be welcomed and escorted to your rooms with the help of the Residence Life Assistants (RLAs). They will assist with familiarising you with the campus and will ensure that all your questions are answered. More details on the residence life team is provided at the end of this guide.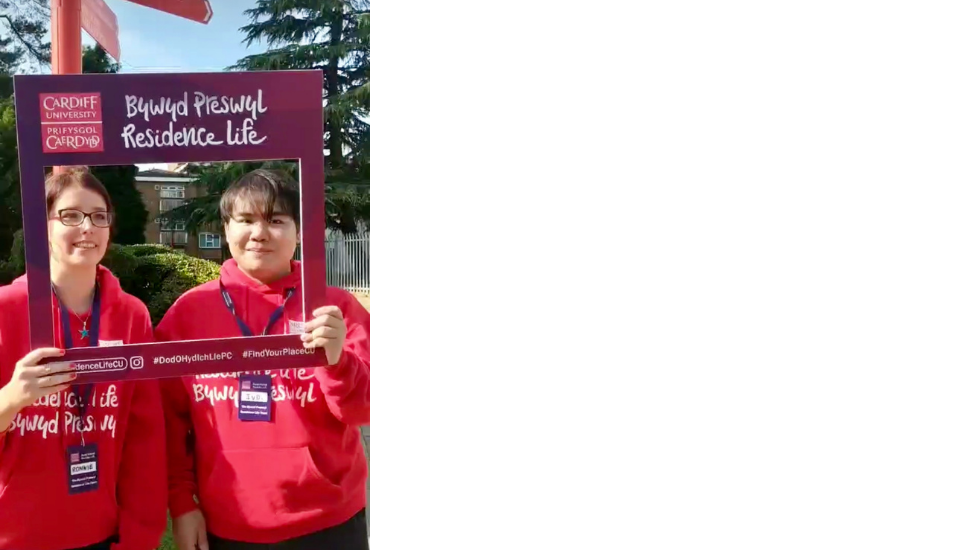 Collection of Keys: If you have already been allocated a room in University Hall, then go straight to the reception to collect your Keys. The opening hours for reception are 08.00 – 18:00 Monday to Friday, except on weekends and bank holidays. If you are arriving outside of reception hours or on a bank holiday, please contact the Conference and Events Team so alternative arrangements can be made. For planned late arrivals please contact Security on arrival on +44 (0)29 20 87 4444. Reception is located at University Hall Birchwood Lane, Penylan, Cardiff CF23 5YB. Telephone: +44 (0)29 2251 0597.
Parking: Parking is available in the in the Tower building where a car park is visible and located by reception. For those travelling by train or bus to Cardiff a taxi will cost around £5.00 to £10.00 from the city centre, depending on the distance and the traffic flow. Please ask the driver to drop you at the Tower Block entrance.
Practical aspects of living at University Halls
Laundry
There is a total of 3 laundry rooms in University Hall. Each is open for use 24/7 so no need to worry about timings.
To use the laundry facility there are two options: payment via an "app" or using a laundry card. Both require one to purchase a laundry card from machines located at the entrance of the laundry room in Tower labelled "Circuit Laundry".
The cost is £2.90 for washing and £1.50 for drying per cycle. Instructions on how to pay and use the laundry facilities are found in the machine and on stickers around the washing machine. You can find out more information on doing your laundry here.
Cleaning
Each flat normally has a weekly cleaning service of kitchens, communal bathroom areas, corridors and entrances. This does not include the washing-up, laundry, garbage collection, cleaning of your bedroom, ensuite bathroom etc. It is expected that students living in residences can organise themselves to adhere to the cleaning standards otherwise a fine is normally imposed where students are not able to maintain cleanliness in these areas. One is therefore advised to create a rota amongst their flatmates for purposes of cleaning areas not covered by the cleaning services. Each flat is provided with basic cleaning tools including vacuum cleaners, buckets and mops etc.
Post
All parcels go straight to the reception and you will be able to collect them during working hours being Monday to Friday from 10:00 to 17:00 hours.
You will normally receive an email stating that your parcel is ready for collection with a number given for your parcel. To collect your parcel, you need to present your residence card as well as your student ID card.
All kinds of parcels can be received included those from Royal Mail as well as Amazon.
Should you wish, an amazon locker is also available behind the Student Union near the entrance to the gym and Cathays rail station. It is advised to always put your phone number with the delivery information so that the courier can call you before returning, especially if it is scheduled outside of working hours.
To find out how to write your address, see the poster on the cork board in the communal kitchen! If you wish to send parcels nationally or internationally, there is a Post Office Service on the ground floor in the SU.
Gym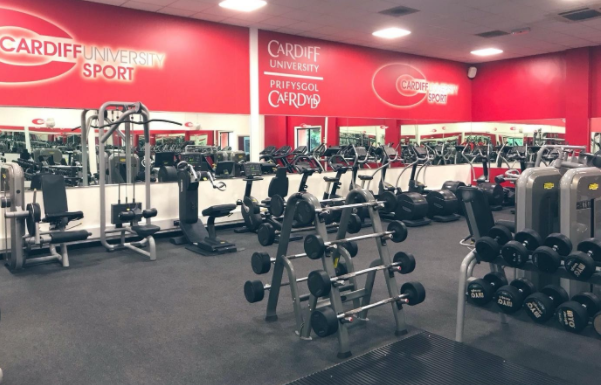 The university gym is the closest and located on Park Place. As a University Hall resident, you need not worry about how to access the gym as the bus normally drops students right outside. If one wishes to access other gym facilities, there are many more located in the Cardiff City centre which is about 10-15 minute walk from the drop-off point of Park Place.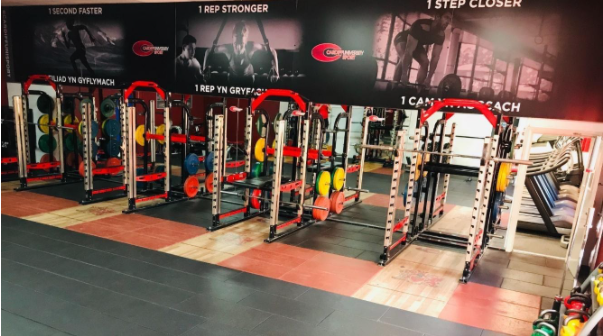 Transportation (walking, cycling or buses)
University Hall is the only residence that has a university bus specifically tailored for dropping and picking its residents to and from University Hall and both university campuses. This bus service runs daily and operates on an hourly basis between 21st September 2022 and 27th June 2023. The bus does not operate on weekends or during the Christmas and Easter recess periods.
To access the university bus, you need to present your residence card to the driver who will then usher you into the bus at no extra cost.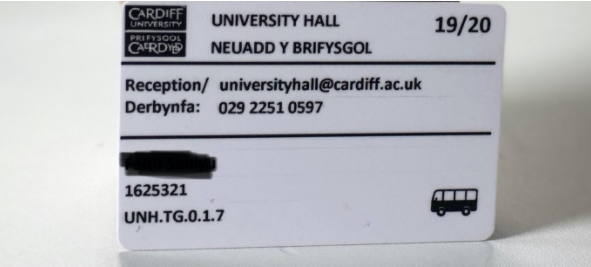 Other modes of transport while in Cathays or Health campus are listed below:
Trains: Cardiff Central Railway Station / Cathays Station: The train can be taken at either of the two stations and will travel to most parts of the UK. Cathays station is found near the University Student Union behind Park Place while the Central station is in the centre of town.
Next Bikes: These are bicycles that are available for hire for free in the first 30 minutes upon registering with the company using your university email. You will find the bikes situated in most parts of Cardiff including Cathays and Heath campus. The bikes are available for use at any time.
Cardiff Bus service: Run by the Cardiff City Council. Cardiff bus operates for most parts of the day with the last bus being midnight. The bus service to and from University Hall is marked number 52. This bus will drop you right outside University Hall at the University Hall Bus stop marked Ty Gwyn.
Uber / Dragon Taxis: There is an array of taxis for hire including Dragon Taxi that comes highly recommended by Cardiff University. When one is unable to pay for the taxi immediately, all one needs to do is to provide their university ID number for billing by the University.
Where to shop
There are several shopping venues depending on your needs. Below is a general summary for your use. Please note that the list is not exhaustive.

Topics