Lifestyle
Running routes in Cardiff
Cardiff is blessed with great parks and running routes. The parks have decade and century-old trees with vast green grounds around. Some of the most common running routes are shown below.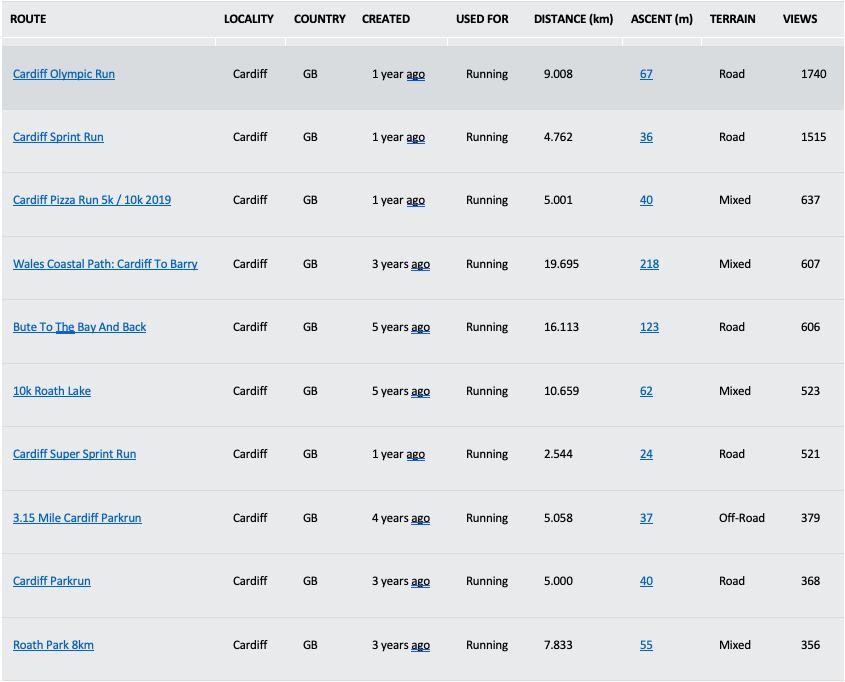 Cardiff's best running routes:
Some of the nicest running routes recommended by runners from around Cardiff are the following :
1.

LLANDAFF FIELDS – 2.5k



Although very small, Llandaf Fields offer a great space for a quick run. Many runners use the park for interval training as the park's one mile stretch is easily identifiable by a bench. This can be used for quick runs and nice views of people playing cricket in the summer.
Gradient: The route is pretty much flat throughout, so perfect for novice runners who want an easy run.
Off-road: The route is well-paved all the way round, so good for rainy days when the ground is wet.
Other kit needed: No particular kit is needed; basic shock absorbing trainers are fine.
Scenery: The park is renowned for its high tree-lined paths. Though very small, it is very well kept.
Room for two?: The track is generally wide enough to for two runners, but watch out on a Saturday and Sunday as the park can get very busy with rugby, football and cricket matches.
Sweat factor: Not very high. The route is very easy due to the flat ground and is definitely more suited to a novice rather than a super-fit long distance runner.
Post-run: Café Castan is very popular with locals, and you see many joggers enjoying a post-run hot drink throughout the day.
Overall: 6.5/10

2.

ROATH PARK – 5K
Roath Park has been recommended by several runners as it is the perfect place for a 5k run, and is one of the preferred places to run in Cardiff because it is one of the most accessible and is well-paved throughout.

Gradient: The route is fairly flat, and is perfect for a novice runner. There is a small hill to go up on the east side of the park, though the track is windy and rises and falls quickly.
Off-road: The route is very well-paved all the way round, so it's a good place to run on rainy days when the ground it wet.
Other kit needed: The track is quite exposed so when windy, wrap up warm. Basic shock absorbing trainers are fine.
Scenery: Though popular with runners, the route never gets over-crowded. The scenery is great and the route around the lake, which is normally covered with ducks, is particularly enjoyable during sunrise or sunset.
Room for two?: The track is generally wide enough to for two runners – Can run with a friend.
Sweat factor: The route is not hugely demanding and is probably more suited to a novice rather than a super-fit runner.
Post-run: There are several cafes en-route for anyone who is struggling, as well as a wealth of bars, pubs and restaurants nearby for those hoping for a well-earned rest at the end.
Overall Rating: 9/10

3. BUTE PARK – 7k
Right in the heart of Welsh capital, Bute Park is a great place for runners to train. The routes displayed within the park are fairly flat with no real hills, but watch out when it has rained; as some sections can get a little wet and muddy.

Gradient: Very easy – the only gradients are the steps of the Western Avenue bridge, and a slight gradient at the Sophia Gardens and Blackweir bridge.
Off-road?: Slightly. Most of the course is well-paved, but there are some sections that get very muddy when wet.
Other kit needs: If you prefer running on softer, more challenging terrains that the route can offer, then off-road trainers are needed. Otherwise basic shock absorbing trainers will suffice.
Views and scenery: Very good– the route passes the impressive Portland stone buildings of the university, the resplendent turrets of Cardiff Castle, and the green fields of Bute Park and Pontcanna Fields, separated by the River Taff.
Room for two?: Yes, although you might need to go single file at some points as it can get busy with cyclists, pedestrians and other runners.
Sweat factor: High. It's a nice flat route, but 7k is a good jogging distance, especially if you run it at a fair pace.
Post-run: You're spoilt for choice. The route passes Bute Park's popular Summerhouse cafe near the end of the run, and earlier on there is a mobile van offering hot and cold drinks and snacks.
Overall score: 8/10

4.

CANTON – CARDIFF BAY – 7.5k
This is the longest route comparatively. Starting in the bustling suburb of Canton, the route takes you into Cardiff city centre and down into Cardiff Bay.

Gradient: The route is relatively flat apart from one or two small gradients.
Off road?: The route is all on solid pavements and paths, so basic shock-absorbing trainers are fine.
Other kit needed: Normal kit will suffice, though some of the route is very open, so wrap up warm if windy.
Views and scenery: The start of the route takes you through Cardiff city centre, so the scenery is not great. But once at the one mile mark, you reach the Taff trail, and the scenery drastically improves.
Room for two?: No. In the early part of this route as you will be forced to dodge pedestrians, buggies, bins, and wayward umbrellas. Try and avoid running this route during rush hour on weekdays or on Saturday's as the bustling centre makes the route rather problematic to run. By avoiding the run from Canton to the city centre, the run is certainly wide enough to bring a friend along.
Sweat factor: This route can really be as easy or difficult as you want it to be. one of the best things about this route is that it's perfect for all abilities. There are several points along the way where you can shorten or extend the run to match your abilities.
Post-run cool-down: At the finish you can head over to the Cowbridge Road to take in your chosen method of re-hydration, where there are plenty of shops to grab a drink.
Overall rating: 7/10
There are other running routes and detailed information given online. 'Map my run' is great website to store your running data as well as look at other people's running routes. Below is the link provided for some of the Cardiff running trails.
Topics