Accommodation
North Campus Student Guide
North Campus includes Aberdare, Aberconway, Hodge and Colum Halls and Student Houses on Colum Rd. It is located in the Cathays Park Campus, and all the former student accommodations are less than a 10 min walking time to the Main Building and 30 min to the Heath Park Campus. The main reception for this campus is in Aberdare Hall and it operates from 8am-6pm.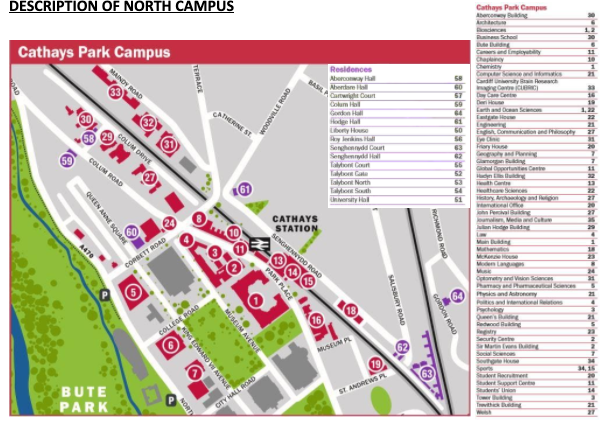 Residence facilities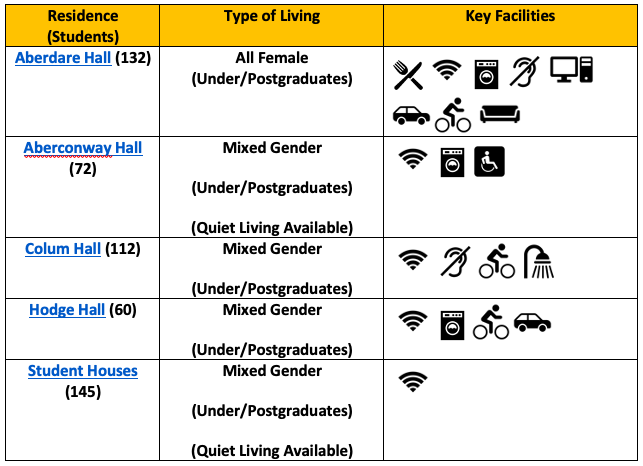 As seen in the images above, North Campus is situated in the heart of the university and is only a short walk from the City Centre and Students' Union. It is heavily populated by students at all times of the day due to the various schools and libraries located within it, and it forms an international community of residents. There exists a catering facility  in Aberdare Hall that is open to students between 8am-4pm Monday-Friday. Moreover, the aforementioned hall houses the dining hall and common room where the Residence Life Team events take place.

What to expect when you arrive?
Collection of keys, instructions, posts and GP registration will all take place in Aberdare Hall as mentioned in the residences contract. On the day of arrival, you will be welcomed and escorted to your rooms with the help of the Residence Life Assistants (RLAs) in their red hoodies/t-shirts. They will assist with familiarising you with the campus and will ensure that all your questions are answered.
The RLAs will also host free weekly drop-in events to ensure that you meet new friends from across the campuses and to act as a point of contact for any of your concerns. Your Residence Life Team will also encourage positive communal living in collaboration with the Residences management team through flat meetings.
Aberdare Hall's catered students will have advantage in socialising as they have breakfast and dinner together every weekday. For the others, in addition to communicating with flatmates in shared kitchens and the Res Life events; there exists numerous societies in the Students' Union for you to meet more people with similar interests! You may also join the Facebook groups of your accommodations to get to know more students living in the same hall.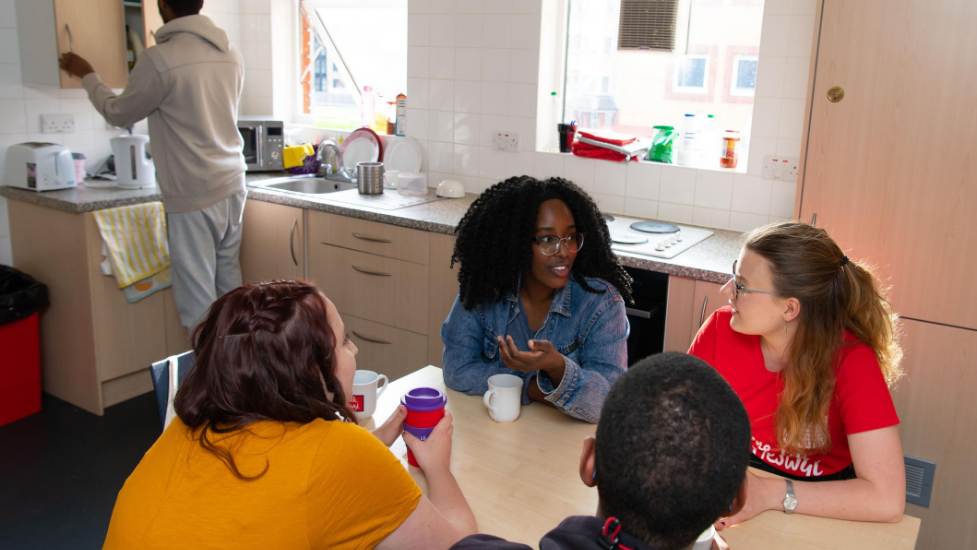 Tips for communal living and sharing spaces
A very basic but important point, is RESPECT. It may be your first time getting along and living with a group of strangers. The best advice is to respect one another. You may have distinct living habits, cultural backgrounds or even mother tongues. It is very important to respect each other and be considerate.
In residences, you will have to maintain a clean and tidy environment in the communal area (also your room). Flats should hold meetings often to decide on matters of cleaning or even living habits at the beginning of the year. This helps you to have consensus on how you should get along with one another and how to share the duty of cleaning.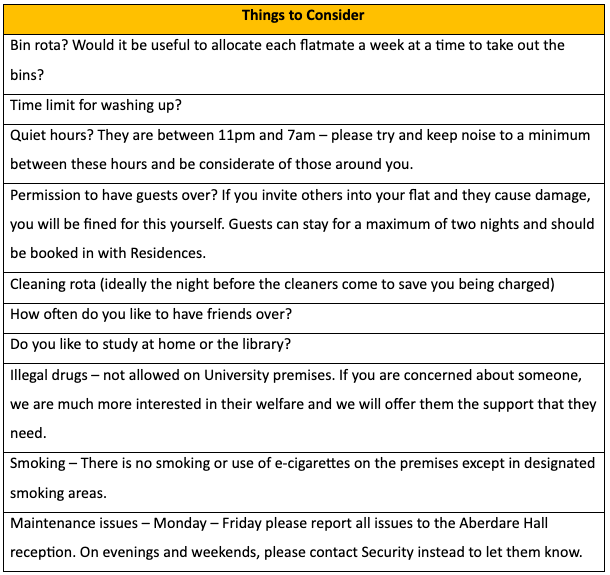 What is Residence Life?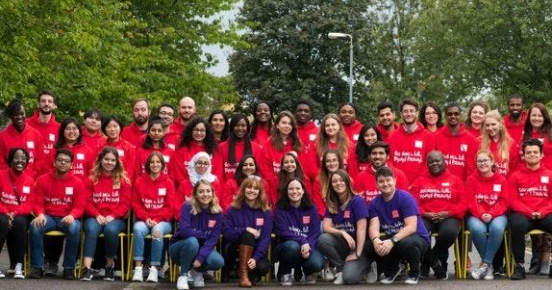 The Residence Life Team includes students who were in your shoes one day and have experienced how hard it is to transition to university life. We, the Residence Life Team, add flavor to your student experience and help create an engaging community where you and your wellbeing are our priority. Our work boasts partnership with the Student Life, Residences Management and your Students' Union which enables provision of quality support services to help you in accomplishing your dreams and in progressing smoothly throughout your studies.
We hold flat chats at the start of the year to help create a positive community. Thereafter, we continue to lookout for your wellbeing throughout your contract period by supporting students through any issues or concerns they may have, and providing you with honest and non-judgmental advice, including signposting you to a specialist service if you need it. 
In addition to the above values, equal treatment and respect to students from all backgrounds and cultures is a must and, hence why, our team is very diverse. We take our cultural differences as an opportunity to celebrate through our events and share different outlooks and beliefs for awareness and inclusion. The Residence Life Coordinators and Assistants take time to plan cost-free events that are respectful to all religions and, essentially, include no alcohol whatsoever. Some of our events include Ramadan, Christmas, Thanksgiving and Chinese New Year. We also hold weekly drop-in coffee lounges across all the residences where support is provided and act as a chance to meet your flat mates! As a resident, your feedback and, fundamentally, your student voice is always heard, acted upon and highly valued by our team.
Practical aspects of living at North Campus
Laundry

There are a total of 3 laundry rooms in North Campus: one for Aberdare Hall, one for Hodge Hall and another for all Column Hall, Student Houses and Aberconway Hall students. The former is located through Aberconway Hall and behind Colum Road House 130. The demand is usually high; therefore, you will need to check the 'Cardiff Students' app for the laundry status before you go. Make sure you set an alarm to remind yourself to pick up your clothes to avoid inconveniencing others. Such facilities are opened 24/7 and the cost of washing up is £2.90 and £1.50 for drying.
Post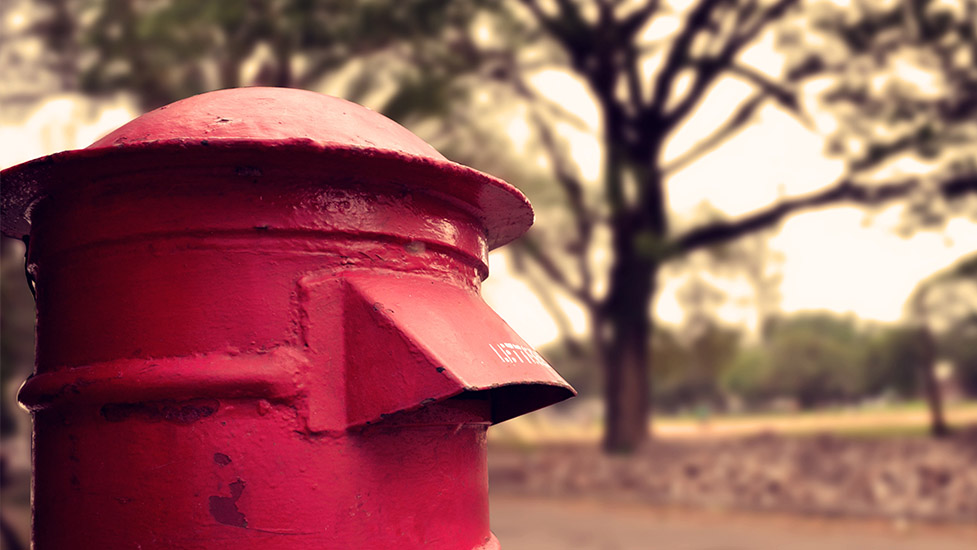 All parcels go straight to the reception and you will be able to collect them during the working times. They accept Royal Mail postage only and to access this you just need to show your student and residence card to the receptionist and sign for it. However, this is only after you receive an email indicating that the parcel has been received by the reception. If you have an amazon prime delivery, which is not Royal Mail, it is recommended to order to an amazon locker hub! There is one on the back side of the Students' Union, by the entrance to the gym and Cathays rail station. The hub by the Students' Union is outside, so it remains open 24/7. It is advised to always put your phone number with the delivery information so that the courier is able to call you before returning back, especially if it is scheduled outside of working hours.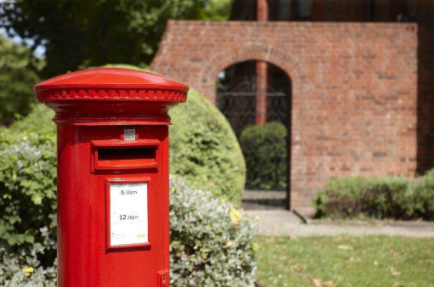 In the case of sending your post, there is a Royal Mail post box just outside of Aberdare Hall. In terms of collecting your own post, there are post boxes within all the accommodations near the entrance to the halls and houses. To find out how to write your address, see the poster on the cork board in the communal kitchen! If you wish to send parcels nationally or internationally, there is a paid Post Office Service on the ground floor in the SU.
Part-time work
It is recommended to sign-up to Jobshop in the Students' Union if you are looking to earn some money. They send out emails with one off jobs, for example, when the rugby is in the Principality Stadium they look for extra staff. There is no contract involved and jobs are allocated on a first-come-first-serve basis. You can sign up online through the Students' Union website (https://www.cardiffstudents.com), but you will need to take your passport, student card and signed term dates from your school with you to the office. This is either in the main Students' Union in Cathays or the Heath Park Campus located in the IV lounge at UHW. You will receive a Jobshop card that is valid for one year, and this will need updating whenever it expires. They also send out job opportunities for regular work.
Gym
The university gym is the closest gym, located on Senghennydd Rd, but if you are happy to go into town there is also JD gym and The Gym which are quite cheap for students and usually have offers in freshers' week. They have stands at fresher's fair so make sure to have a look!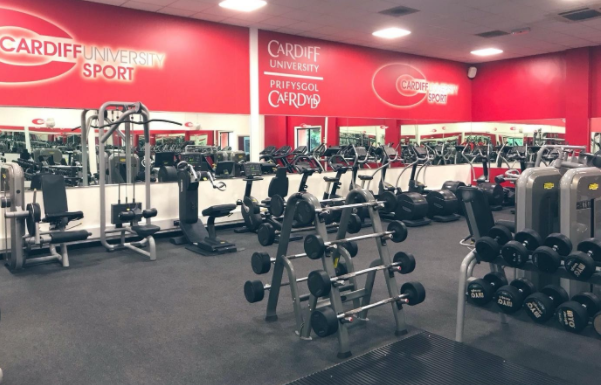 Walks, relaxation and exercise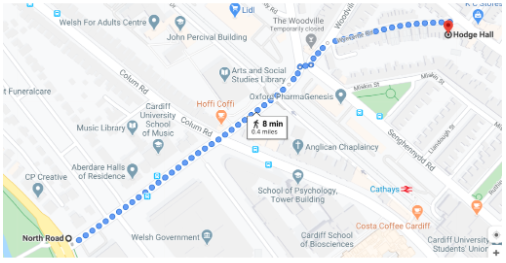 Bute Park – it is a beautiful spot of nature carved within the city – and it is only an 8 min walk away from Hodge Hall. If you wish to take a deserved break from studying and have a nice walk, go for a run or just sit quietly and enjoy the sound of birds singing then this is the right place. Do not miss it during spring -there are blooming magnolias, tulips and all kind of flowers everywhere!
Where to shop
Lidl – the main 'student' based supermarket is just across the road (2 min away)
Sainsburys' Local and the Korean & Japanese Food shop approx. 10 minutes down Woodville road.
24hr Tesco Extra – very large and varied and includes international groceries. Located just above Talybont.
M&S FOODHALL – there is a branch in Saint David's Shopping Centre in the city centre. However, this is slightly more expensive than Tesco and Lidl yet is higher in quality.
Co-op – at the Senghennydd Rd entrance to the Students' Union
You may also want to do a shopping list to prevent overspending. Home Delivery can be cheaper and more efficient if you share with your friends and flatmates.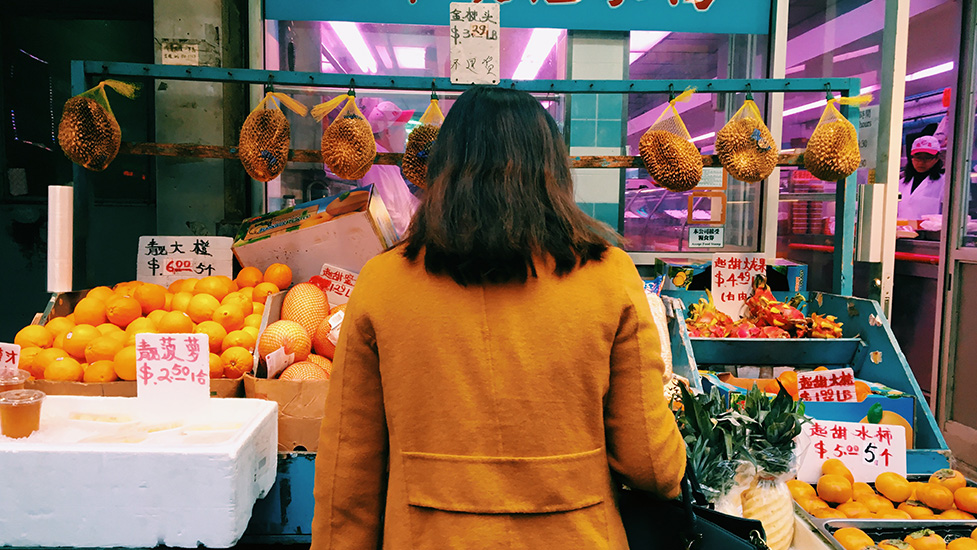 Transportation (Walking, cycling or buses)
Trains: Cardiff Central Railway Station / Cathays Station
Next Bikes (stations available across the whole campus)
Public bus service/Uni Hall bus service
Ola/ Dragon / Uber taxis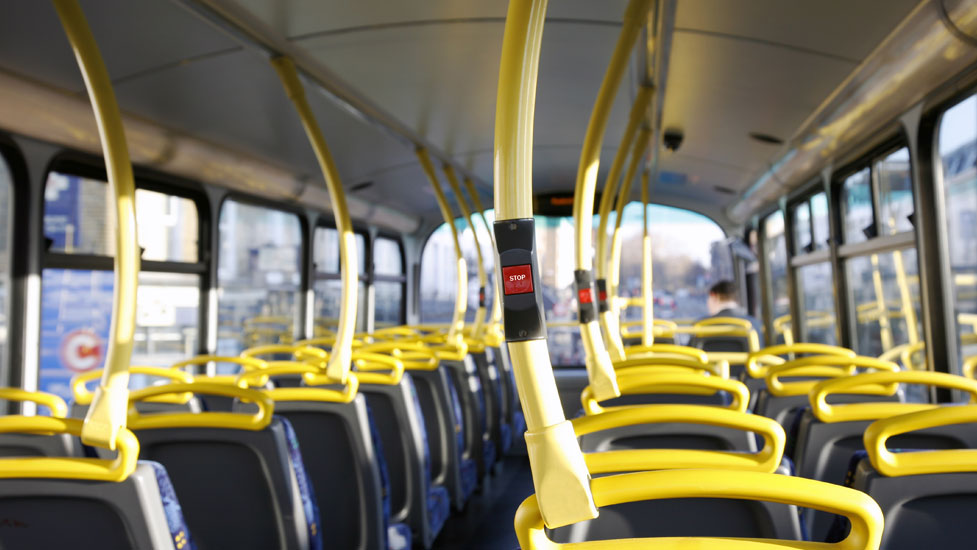 Places to eat
Hoffi Coffi – one of the most popular coffee shops among students; it is next to the ASSL and at the intersection of the crossing road across the bridge. It is very handy as you can stop by and grab a nice coffee on your way to lectures.
Metchy's café – next to Lidl, it is a coffee place that you can go to between lectures, or on your way to the library. It is also a great spot to go to if you want a quick lunch.
If you fancy something dairy free or vegan just a little bit down the road on Cathays Terrace, there's Embassy Café. This is a great spot to go to if you would like some Indie and 90s music in the background while studying or catching up with a friend (or yourself!)
Green Shoots - located in the Main Building on Park Place, Green Shoots is a wonderful new café that serves a host of breakfast and lunch items at an affordable cost.
The Centre for Student Life has a Costa Coffee, Subway and Gregg's very close by, for a quick on-the-go snack. On the third floor there is also a vegan cafe called Baby Shoots, the sister company to Green Shoots!
Coco Gelato – maybe not a daily place to go to, but it is worth going there for a treat occasionally. It has a large variety of Italian ice-cream and very delicious pancakes. It is 15 minutes down Woodville road at the intersection with Crwys road.
Deliveroo, UberEats and JustEat are some of the websites that do food delivery. Some of them may have student discount if you visit UNIDAYS.
Woodville Road and Crwys Road have a wide range of cuisines, including Thai, Mediterranean and Chinese! If you are a foodie, do explore these restaurants!
City Road is a bit further; however, it has different restaurants waiting for you to explore.
Nevertheless, cooking for yourself is often much cheaper, so if you are budgeting please beware that you will spend more than expected when you order takeaways often.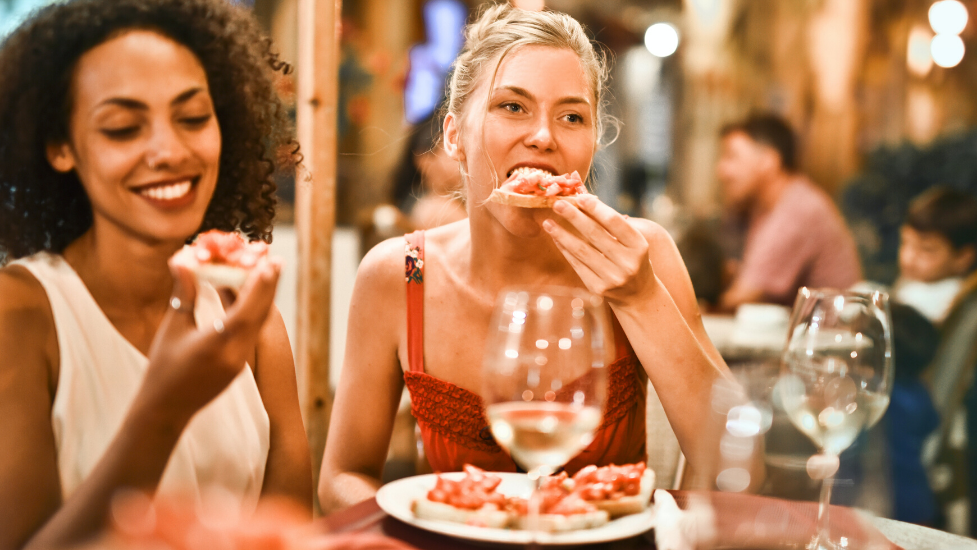 Pubs and cinemas
The Woodville – next to Hodge Hall, it is one of the most famous pubs in Cathays and it is student orientated. It is a nice place to live by if you enjoy socialising or watching live sports.
The Taf – a student local within the Students' Union, which is only 5 minutes down Senghennydd road. They have loads of student promotions; it is a very popular place for socials and also for their Saturday's Karaoke (https://www.cardiffstudents.com/our-venues/taf/ to find out more!)
Located in the City Centre but still a walkable distance, here are the cinemas in order of closest to furthest away – Premier, Cineworld and Vue
Libraries and Study Spaces
Julian Hodge (open 24hrs just off Colum Road)
Music Library (next to Abadare Hall)
ASSL Library (on the crossroads between Park Place and Colum Road)
Aberconway Library (on Colum Road)
Centre For Student Life or CSL for short (on Park Place)
Students' Union (linked to the back of the CSL)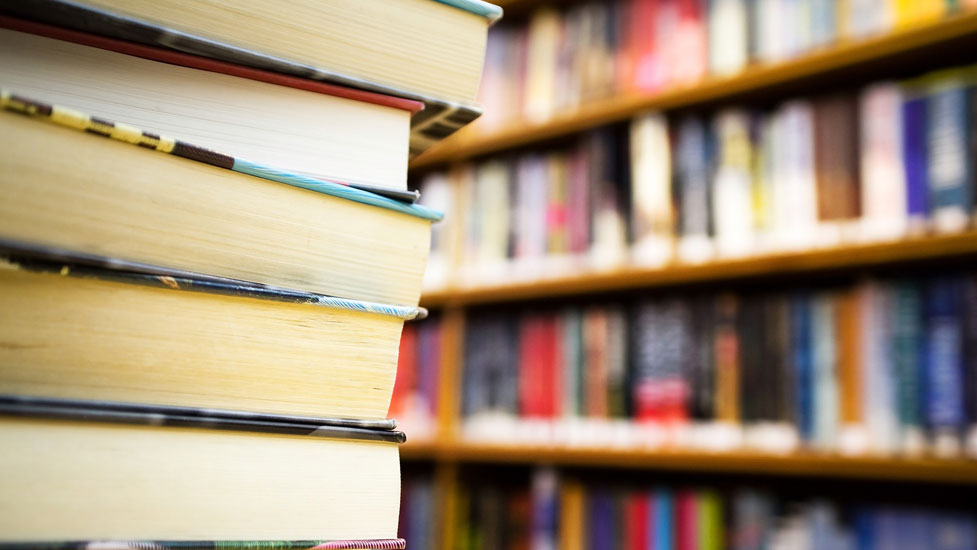 Topics