Accommodation
Living in South Campus
South Campus is one of the biggest university accommodation areas, located nicely between Cathays and the city centre. The location is extremely convenient – 10 minutes away from the city centre, 5-7 minutes away from Cathays and, if you're up for the walk, 20 minutes walk away from Cardiff Central. Most university buildings and libraries are nearby too, meaning that you won't have to commute to get to lectures or meetings. Shops-wise, the small Tesco on Salisbury Rd is the closest for quick emergency shopping, but for bigger shops Lidl is 10 minutes away. City Rd is also about 10 minutes away, for a greater variety of food and a lot of restaurants and takeaway places. However, because everything is so close-by, the danger of staying in the Cathays 'bubble' is real – so you would need to make an active effort to find places to explore outside of the area, even if it is more inconvenient; Cardiff Bay, Roath Park, Castle Coch, and St Fagans are all excellent places for this.
All these practical details definitely made staying in South Campus very enjoyable, as I didn't have to worry about bus/train schedules, or be too far away from useful places. As a postgraduate student, all the rooms are en-suite, so there is only one user for the bathroom, as well as only one person in charge of keeping it clean. This worked really well for me as I liked having my own space – but if you are sharing bathrooms with your flatmates, you might want to think about doing a cleaning rota. The wet-room style of the bathroom (shower space embedded in the floor, flanked by the sink and the toilet) means that storage of bathroom items may be a little tricky, so you may need to consider getting a small stacked shelf case, or keeping the products in your room.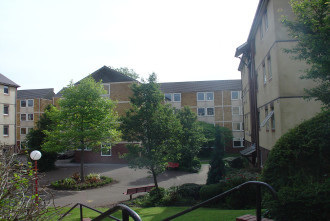 There is no doubt that South Campus, in particular Senghennydd Court, is very lively – if you're up for embracing all of that, you'll have a lot of fun! If, like me, you like more quiet places, there may be a little readjustment you'd need to do, such as talking to your flatmates about noise levels. The postgraduate buildings are within the central court of Senghennydd Court surrounded by undergraduate buildings, so there won't be much train noise, although some rooms do face two popular streets outside the campus, Salisbury Rd and Senghennydd Rd, so sometimes there may be noise coming from the street. That being said, don't be afraid to call Security if there is excessive noise on site – all buildings have a quiet hours policy between around 11pm and 8am, that everyone must abide by. Unfortunately, this does not include noise from outside of the campus. The seagulls also haven't been informed of this rule…
Overall, I enjoyed staying in South Campus – my room was big and there was plenty of storage space, the kitchen was spacious and well-equipped, and everything I needed was within a 15-20min walk. The downside of the noise was fairly manageable for me, but it is worth keeping in mind. If you come to stay in South Campus, I hope it will be a lovely experience – and don't forget to come say hi to the Res Life team!
Adelina - Previous South Campus RLA

Topics