Lifestyle
A step-by-step guide to making your own sushi
Have you ever thought about making your own sushi?
Here is our step by step complete guide on how to impress your flatmates and make some awesome sushi!
Ingredients:
Sushi rice, 300g (You can easily find this in international food stores, there are many in Cardiff! They're available to buy in 5kg bags and sushi rice can be used for many delicious recipes).
Nori sheets, 1 packet (Nori is a dried, edible seaweed that can also be found in international food stores).
Fillings - if you're making vegetable sushi, we recommend carrots, cucumber and avocados! See the bottom of this post for more sushi filling ideas!
Toppings - sesame seeds, sliced green onion, sriracha chilli sauce, spicy mayo, soy sauce.
Method:
To prepare the sushi rice, set aside 300g rice and wash three times until the water runs clear. Pour 390ml fresh cold water and bring to boil for 15-20 mins. Take the pan off the heat and let steam for 15 mins.
While you wait for the rice to cool, prepare your fillings. Cook any proteins and chop your veggies. Leave to the side and get ready to assemble!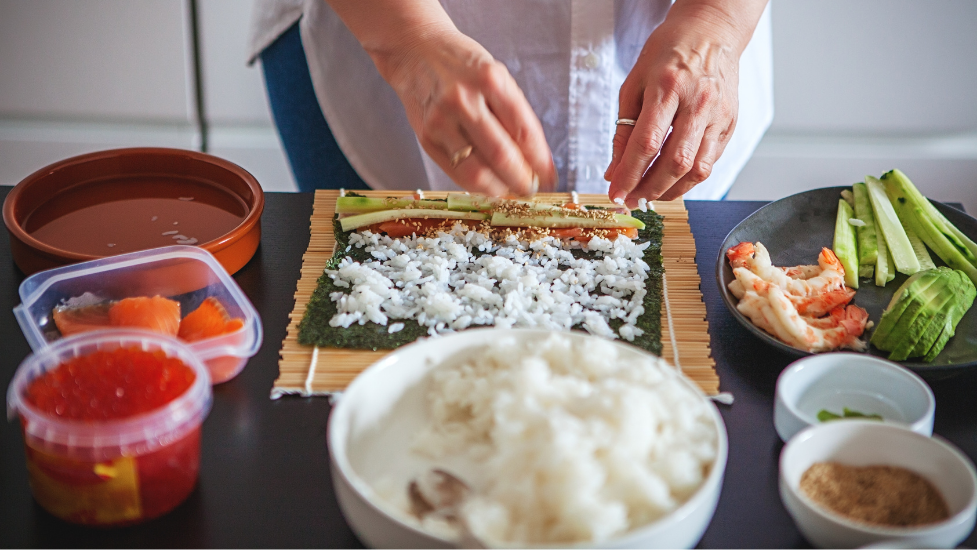 Place a sheet of seaweed on your mat (you don't have to have a real sushi rolling mat, a cutting mat will do fine). Spread a layer of rice over the seaweed, leaving one inch at the top spare.
Add a horizontal layer of your filling, about an inch and a half above the bottom (as pictured).
Hold the sushi with both hands from the bottom and pull it towards yourself in a rolling motion. Keep rolling the sushi tightly, making sure all the fillings are packed in.
Use a sharp knife to cut the sushi into one-inch-thick pieces. Arrange on a plate, top with any extra toppings and serve!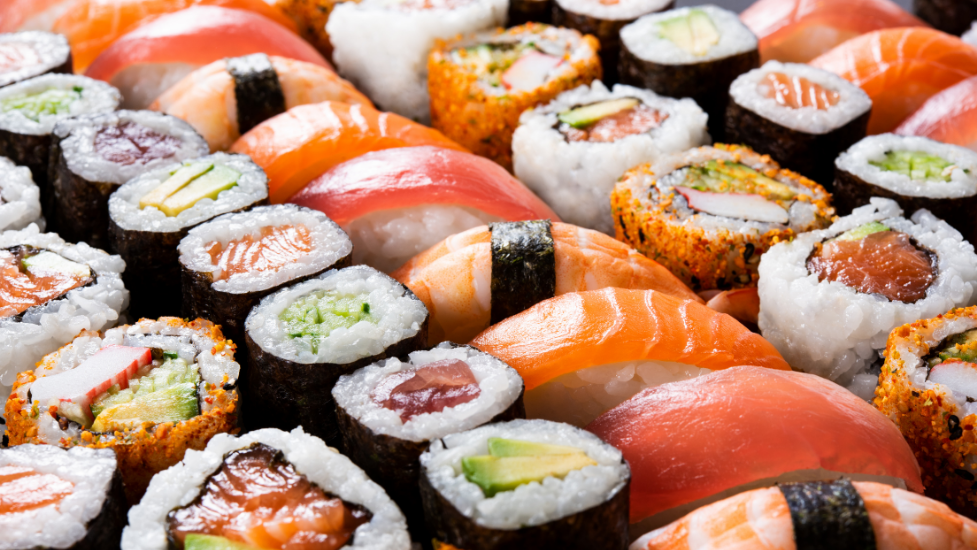 Feel free to get creative with the fillings!
Here are some ideas:
California roll - cucumber, crab and avocado
Shrimp tempura roll
Teriyaki tofu sushi
Sushi burrito
Frushi - this is a really cool idea if you're interested in something sweet! You can add coconut milk and sugar to the rice and top with fresh sliced fruits

Topics